Quote from the World Press Photo statement from 14.04.2020:
"As a result, the Post Award Review Panel has concluded Mann's entry has not broken either the World Press Photo Contest Code of Ethics or the 2020 Photo Contest Entry Rules, more specifically no breach of article 19 of the 2020 Photo Contest Entry Rules. "


Initial Statement:

It is not possible for Maximilian Mann to have plagiarized images that were only published after his WPP nomination. It's very much likely that Solmaz Daryani changed her story's edit shortly after the announcement and published similar pictures from her archive to raise accusations of plagiarism. Furthermore, nine out of ten pictures in question are not part of her numerous publications. Maximilian Mann could not have plagiarized images that he had never actually seen.
On March 10, 2020, in the blog entry "
When Carbon Copies Fade
" by Kaveh Rostamkhani, DOCKS member Maximilian Mann was accused of having copied pictures of Solmaz Daryani's work. This week we received a tip-off by someone familiar with Daryani's work saying that the pictures that were used in the accusations had not yet been published on her website on February 20,2020. This is where we started our investigation.
Through Wayback Machine, a service that records previous versions of websites, it is possible to access an old version of Daryanis website. Here we found proof that 9 of 10 photos included in the plagiarism accusation, were not part of her original edit. Through the Wayback Machine archive, the old website can be accessed at two different points in time: April 28, 2019 and October 8, 2019.
https://web.archive.org/web/20191008115410/http://www.solmazdaryani.com/lake-urmia-iran-watercrisis
Maximilian Mann's work was completed in January 2019 and was also published several times before October 8, 2019. It was therefore impossible for Maximilian to know Daryani's 9 pictures in question during the entire process of his work: research, photography and editing.
Only later, most likely after Maximilian Mann's WPP nomination, the pictures on Daryani's website were changed. Also the story's edit on the online platform Visura was updated with new photos on March 14, 2020, four days after Rostamkhani's article "When Carbon Copies fade" was published.
Furthermore, we have analyzed all pictures from the numerous online publications of Daryani's story "Eye of the Earth". And our suspicion was confirmed: 9 of the 10 pictures in question are nowhere to be found.
Until Maximilian Mann's WPP nomination, Daryani used different images on her website and in her publications.


overview of all
online publications of Daryani's story we could find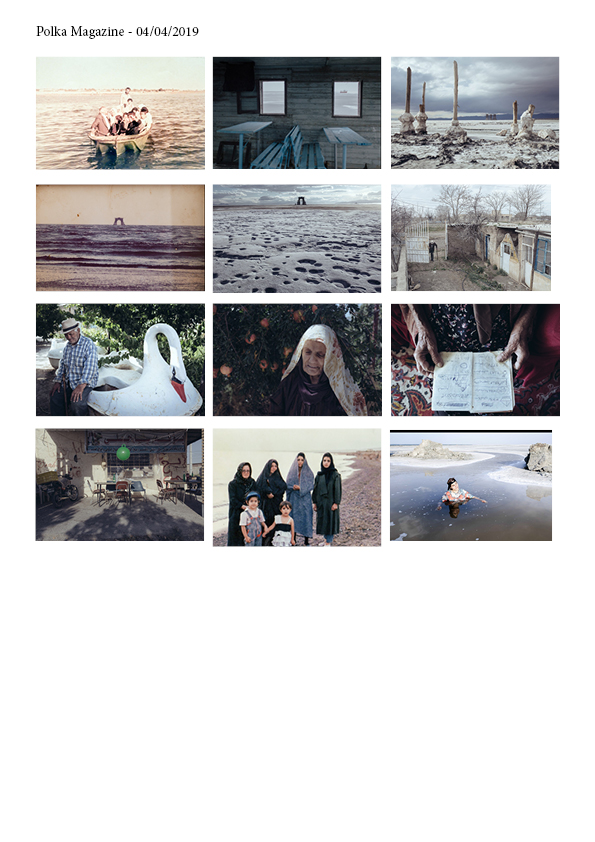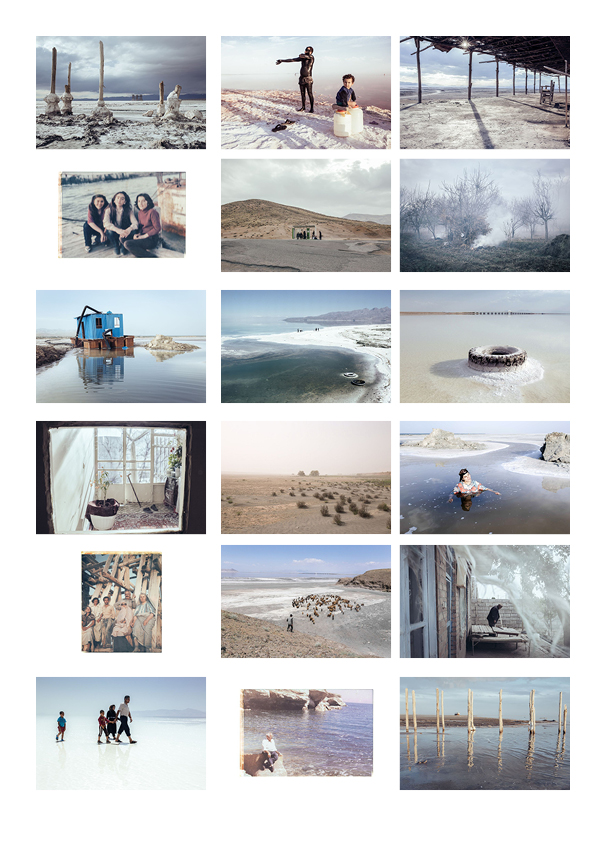 These pictures show significantly less similarities to Maximilian Mann's photos. Only one of the 10 images appears sporadically in the publications and on her older website. Daryani's picture shows a single worker shoveling salt from a truck. Maximilian's picture shows four people packing salt for private purposes. It is absurd to speak here of a "carbon copy" in both content and visual terms. If this picture would pass for a "carbon copy", the entire photo industry would have a problem: then almost every picture with the same subject would have to be called a "carbon copy".
To argue his case for a "carbon copy" Rostamkhani uses a picture photographed by Daryani showing a "characteristic rock formation in Govarchin Qaleh" and compares it with one of Maximilian Mann's pictures. Interesting here: we didn't find the picture in any publication, even on Daryani's recently updated website it is not published!
How could Maximilian Mann have copied a picture that was apparently only hidden in Daryani's private archive? This picture stands as one of many examples for the artificial creation of a plagiarism case.
It also exposes the extremely poor research done by Rostamkhani. Presumably, he received the pictures from Daryani and distributed them unchecked.
Rostamkhani states that it can't be a coincidence that in the 10 picture edit for World Press Photo exactly 6 photos show great similarity to Daryani's pictures: "
And that of these selected ten, six pictures are eerily similar to another existing project well-known to him on the same subject. It doesn't need a PhD in maths to understand what a negligible possibility that is to happen by pure coincidence."
So it is in fact not a coincidence at all that the pictures are so similar! Daryani intentionally selected images afterwards that show similarities to Maximilian Mann's pictures.
Rostamkhani's comparisons are therefore based on images that were not published anywhere at the time when Maximilian Mann did his work.If you compare Maximilian Mann's edit with Solmaz Daryani's edit from publications (for example in emerge magazine), the differences are obvious. The color palette is different, the composition of the pictures and also the general approaches to the story are distinct. Daryanis images are often more personal and are combined with private images. Maximilian is often more distanced, seeks clean compositions, deals extensively with the aspect of agriculture and water use, contrasts these pictures with scientific aspects, looks at historical aspects in museums and shows the everyday life of the inhabitants. Both works can coexist and each have great value on their own.
Conclusion:
According to our research, unfortunately, everything speaks for the fact that Solmaz Daryani must have uploaded the pictures in question from her private archive to her website after the fact, certainly later than October 8, 2019 but most likely after the WPP announcement on February 25, 2020. Her accusation of plagiarism thereby becomes baseless.
Daryani was quoted by Rostamkhani and the platform Visura: "It's very unethical and unfair to reproduce this many images of my story one by one". We think it is very unethical and unfair to accuse a fellow photographer of copying images "one by one", knowing full well that the photographer could not possibly have known these images!
We are appalled that a talented and respected photographer like Solmaz Daryani, retrospectively searched for previously unpublished photos in her archive in order to publicly accuse a colleague of having reproduced these unknown images.
We are shocked how Kaveh Rostamkhani publicly accused a fellow colleague of plagiarism, thereby potentially irrevocably damaging Maximilian Mann's reputation by calling a picture a "carbon copy", that never appeared anywhere besides his own blog.
Unfortunately, we have to assume that the accusations were constructed retrospectively and were intentionally aimed at discrediting Maximilian Mann. Therefore we expect a public apology from Solmaz Daryani and Kaveh Rostamkhani.
Greetings from home
DOCKS
Update 09.04.20
Solmaz Daryani is quoted by
PetaPixel
with the following statement:
"Being mentioned in the statement of DOCKS collective, they discuss that most of the plagiarised pictures were not part of my original edit on my website at two different points in time: April 28, 2019, and October 8, 2019. But the photos in question have been available online as early as 2016/2017 since it is a natural thing to do – editing an ongoing long-term project anew whenever you have substantial new material."
We have investigated this statement and were able to track her website back to 2016 and 2017 (3. August 2016, 27.March 2017, 14. May 2017, 11.September 2017).
https://web.archive.org/web/20170513112314/http://www.solmazdaryani.com/the-eyes-of-earth
Result: All the mentioned pictures cannot be found in 2016 and 2017. overwiev of Solmaz Daryanis website from 2016/2017